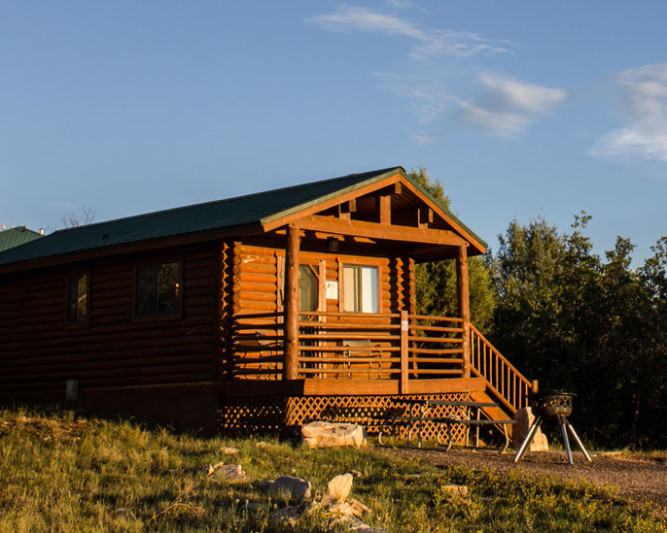 Enjoy Luxury Amenities, Fine Dining, and Fun Outdoor Activities in this Family-Friendly Backcountry Ranch Located Beside Zion National Park.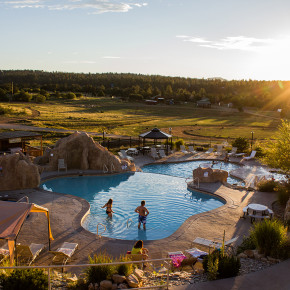 Earlier this month during a road trip throughout the Southwest USA, we visited Zion National Park in Southern Utah.  Zion is my favorite national park in all of the Southwest, however, the neighboring town of Springdale is bustling, pricey and often overbooked. Plenty of park visitors stay at Zion's onsite campgrounds, but it's a primitive option lacking showers or amenities. I wanted to stay somewhere quiet, comfortable, affordable, and close to the park.
Enter Zion Ponderosa. Located just a few miles from the east entrance of Zion National Park, this full-service ranch resort provides everything you could need for a cushy stay in the wilderness: an outdoor infinity pool complete with waterslides and dual hot tubs, professional massage and spa services, horseback riding, rock climbing, zip-lining, jeep tours, chef-prepared meals, and more.  Best of all, the setting is rural. quaintly rugged, and refreshingly peaceful with lodging options to accommodate any budget.
Lodging Options
There are a variety of ways to stay at Zion Ponderosa, from simple tent sites in the shade of evergreen trees to full scale luxury vacation homes.
Tent Sites & RV Parking
Pricing: $10+/night for tents; $49+/night for RVs
I've camped in plenty of sites throughout the Southwest USA and can say that Zion Ponderosa has the best facilities I've ever seen. Tent sites are shaded and well-maintained and include a picnic table and grill. Most importantly, the community showers are very clean, roomy, and private. There are large separate restrooms, along with a coin-operated laundry room and a dishwashing area.  
Western Wagons
Pricing: $47+/night
These sturdy wooden wagons are a comfy step-up from camping. With a curved roof and traditional wagon wheels, these charming units are reminiscent of early American pioneer covered wagons. Each sleeps up to four people with two single beds and one queen. Bedding and towels are included, electricity is not. Bring your own flashlight, and enjoy roughing it in style. 
Cowboy Cabins
Pricing: $67+/night
Cowboy cabins come with a large adult-size bunk loaded with two queen beds and a sofa sleeper to house a total of six people. There is no running water, but towels are included and the shower house is just a few steps away. You can plug your electronics into the included power outlets, and enjoy meals on the picnic table on your own front porch .
Cabin Suites
Pricing: $160+/night
We were thrilled to spend the weekend in an adorable cabin suite outfitted with a fireplace, flat-screen cable TV, kitchenette, private bedroom, full bathroom, and A/C unit. We even had our own private driveway and raised porch with a great view of the grounds. It was incredibly comfortable and perfectly appointed. I can't wait to stay here again!
Resort Amenities & Activities
There are many ways to relax or keep busy at Zion Ponderosa. Whether you want to surf the web on free WiFi beside the pool or soar through the air on a zip-line, you'll find something to make you smile. Some of my favorite amenities include:
Infinity pool with two hot tubs
Free WiFi
Horseback riding
JEEP tours
Professional massage
Zip-line
Rock climbing
In addition to a myriad of activities at the resort, keep in mind you are on the outskirts of Zion National Park, with more than 229 square miles of protected wilderness to enjoy and explore.
Final Impressions
With an upbeat, friendly staff, superior facilities, and plenty of activities throughout this sprawling rural ranch, Zion Ponderosa Ranch Resort was a great place for a weekend getaway. I highly recommend booking a stay here if you're planning to visit Zion National Park.
Book It
You can reserve online or call 1-800-293-5444 to book a night or two at Zion Ponderosa.
Browse the website at www.zionponderosa.com.
Map It

View Southwest USA Travel in a larger map
Photo Credits
© Hillary Fox