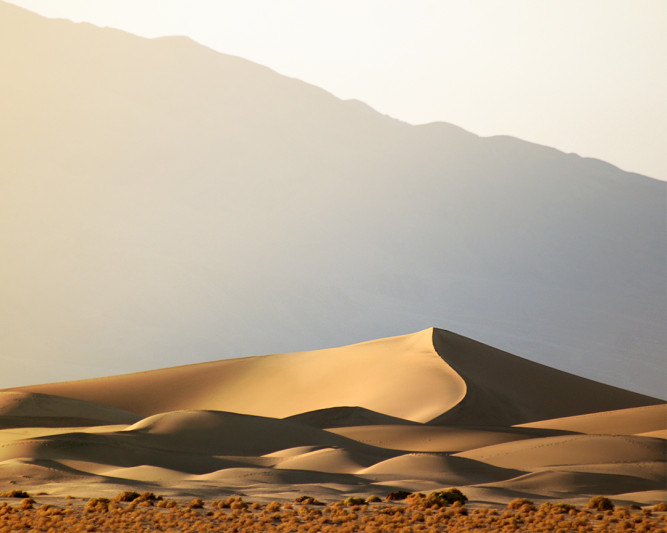 Climb to the Highest Peak of Death Valley's Sand Dunes for an Epic View Unlike Any Other.
Death Valley, the renowned 5,000 sq mile national park along California's southeastern border, has long been considered the hottest place on Earth. I've traveled to this park many times since my first visit in 2005: I've camped in its primitive campgrounds, strolled across vast salt flats, climbed its peaks, explored its ghostly relics and cruised its rugged roads cutting through barren desert landscape.
But my favorite experience in this strange and wonderful desert has been climbing the Mesquite Flat Sand Dunes. Keep scrolling for a photo tour of this challenging hike to the peak of Death Valley's most beautiful sand dunes.


Getting There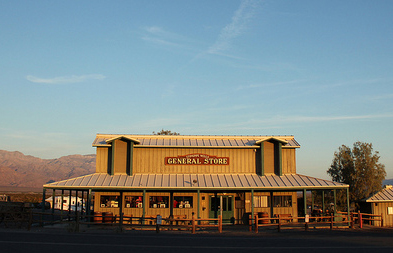 The Mesquite dune field is found in the center of Death Valley National Park. You can access the dunes from a large designated parking area with pit toilets off Highway 190, just three miles east of Stovepipe Wells.
I recommend stopping by the Stovepipe Wells General Store (pictured at right) first to load up on supplies and fuel.
When To Go
Best Time of Year to Visit Death Valley
Your most important consideration is the time of year. Death Valley temperatures are often unbearably hot in mid-summer, with scorching temps reaching 123°F (50°C) and higher. Plan this hike in the spring or fall for optimal weather.
Best Time of Day to Hike in Death Valley
For the most striking views of the landscape and to avoid the mid-day sun, time your hike to coincide with the golden hour by leaving just before dawn, or a couple hours before sunset. The quality of light will be a warm golden color, a great complement to the sand dunes.
What To Bring
Plan in advance to carry everything you need on this hike. Be mindful of harsh desert conditions that could be life-threatening. There is no marked trail on the dunes. Head towards the highest peak and pay attention to where the parking area is for your hike back. Here are a few things you'll need:
Carry plenty of water. In this arid desert, one gallon per person, per day, is suggested. Water is best carried in a reservoir with a hose and mouthpiece that you can carry in your backpack. I recommend the Camelbak Rogue 70 oz Hydration Pack
. If you fill it half with ice and half with water, it will be wonderfully icy cold for your entire hike.
Pack food. This hike will be quite a workout. You'll need snacks for an energy boost after spending hours hiking on sand. Bring a few of your favorite energy bars, or my personal power combo: a banana, walnuts, and cheese cubes.
Wear Sunscreen. Don't just bring sunscreen, remember to wear it! Reapply often. I earned 2nd degree burns doing this hike without sunscreen in July of 2006. Whoops. I recommend a powerful 100SPF sunscreen along with lip balm, sunglasses, and a hat. Even if you don't hike in the summer, the sun in Death Valley is intense. Remember, it doesn't have to feel hot to burn.
Bring a Headlamp. Or a flashlight. If you're hiking into the evening, you may need it. Be sure the batteries are fully charged, and know where you're going.
What It's Like
Below is a photo tour showing the progression from the beginning of the hike to the peak of the highest dune. Depending on your own pace and fitness level, the total hike could be anywhere from 2-4 hours.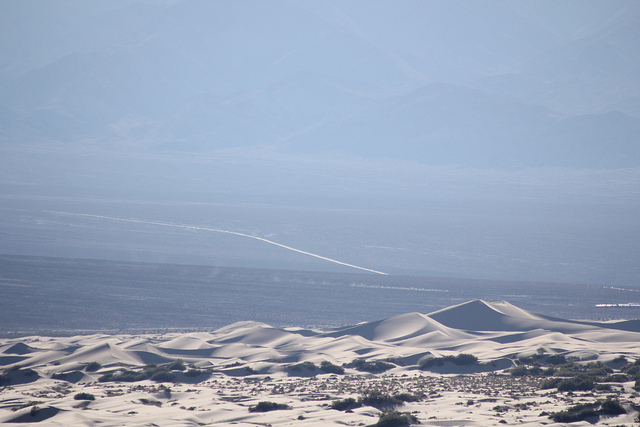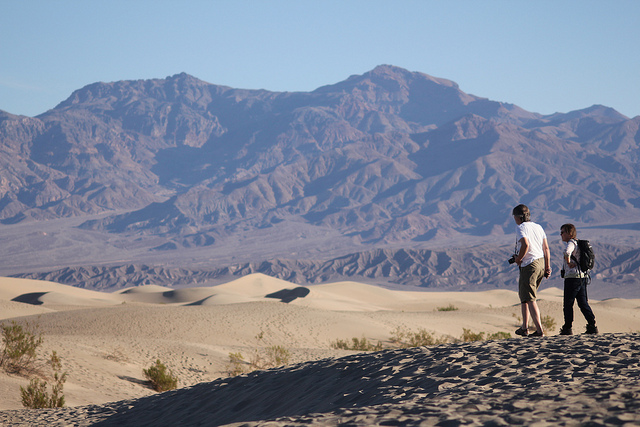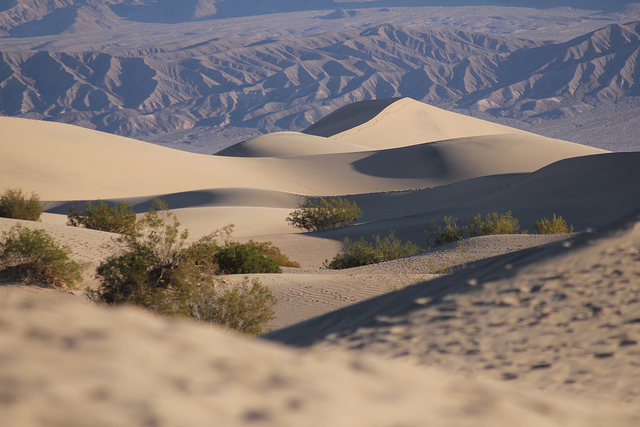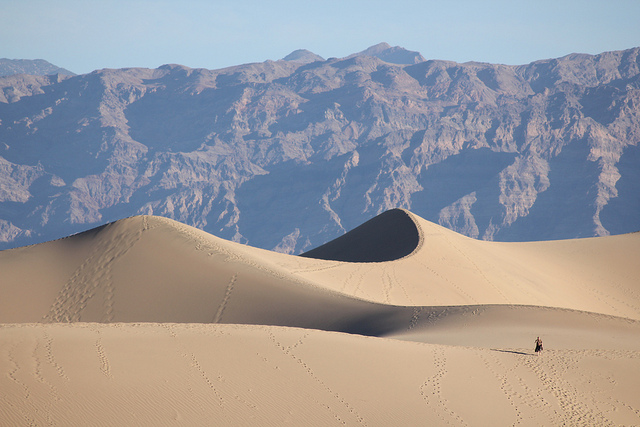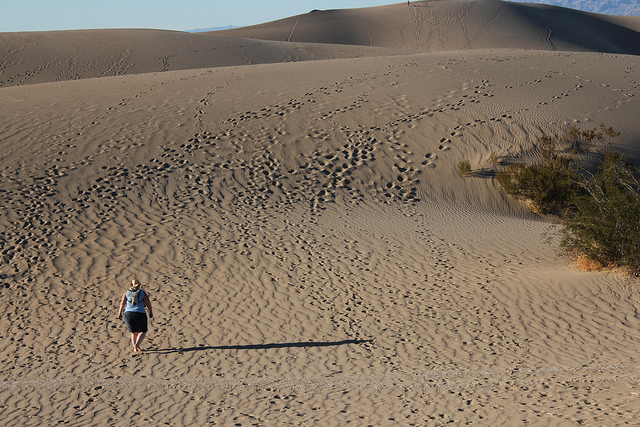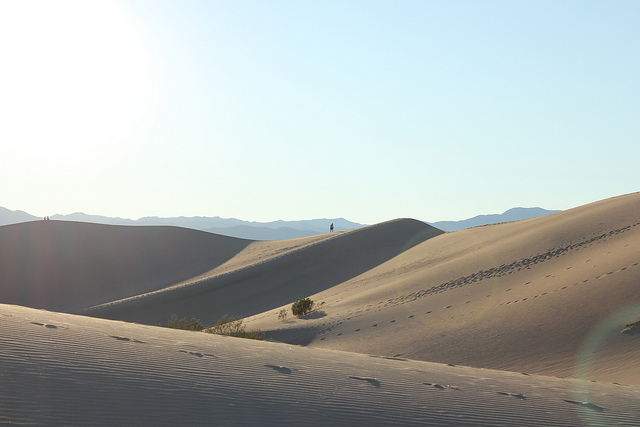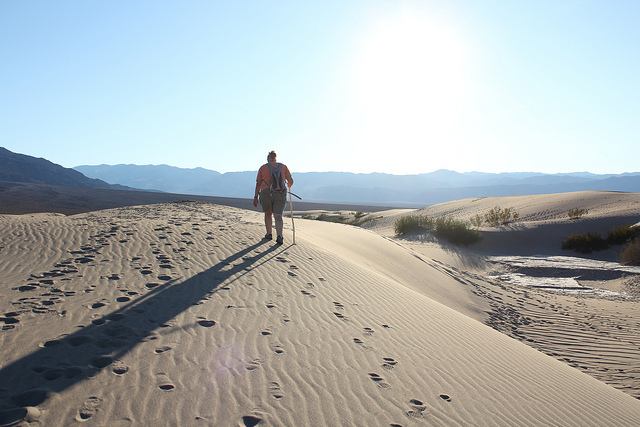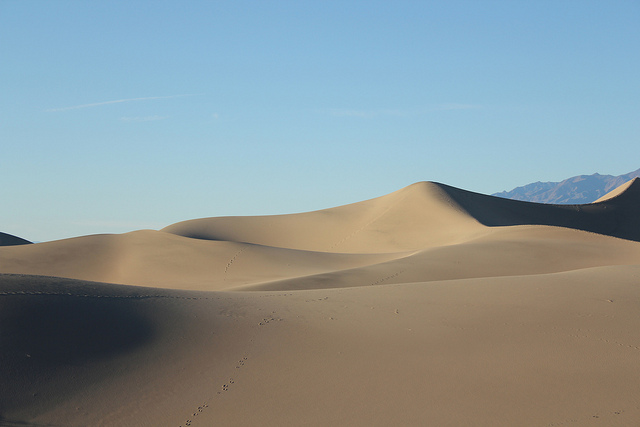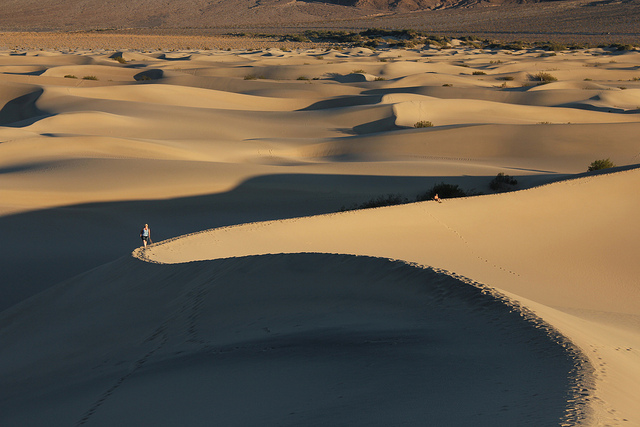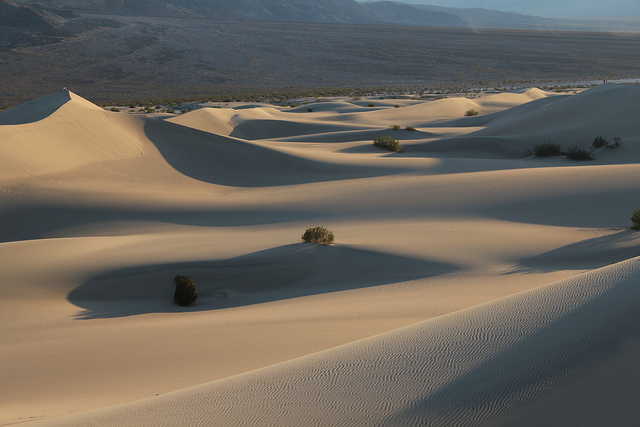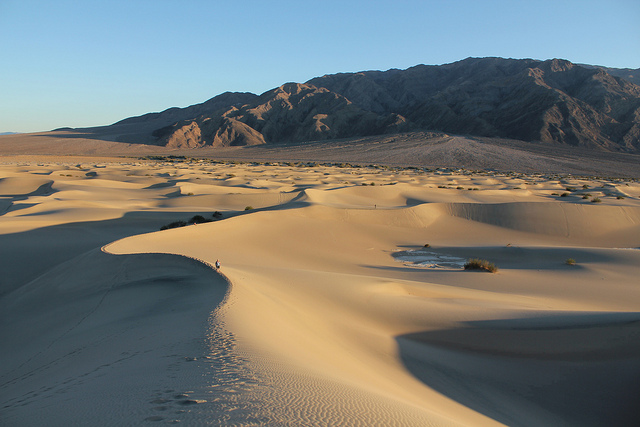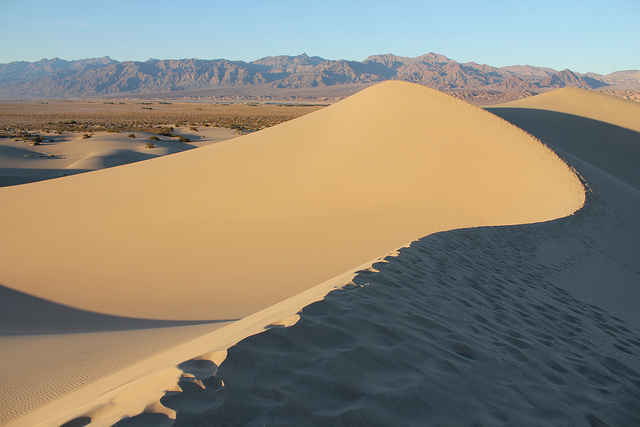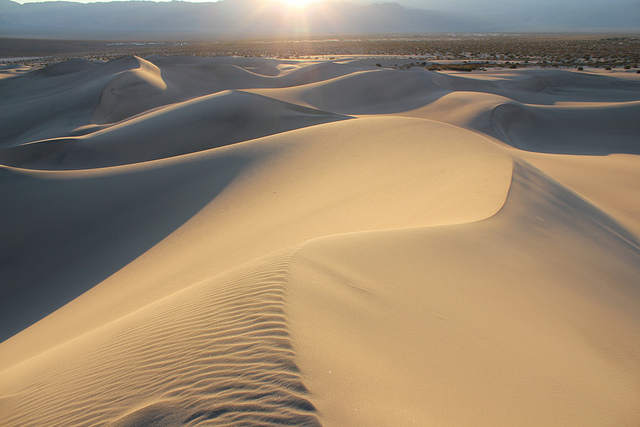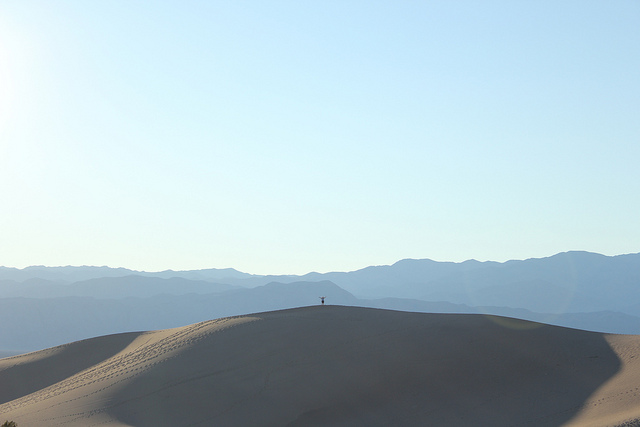 Map to Death Valley
Use the map below for directions to Mesquite Flat Sand Dunes in Death Valley. View the larger map to explore more popular Southwest USA destinations.


View Southwest USA Travel in a larger map
Photo credits © Hillary Fox