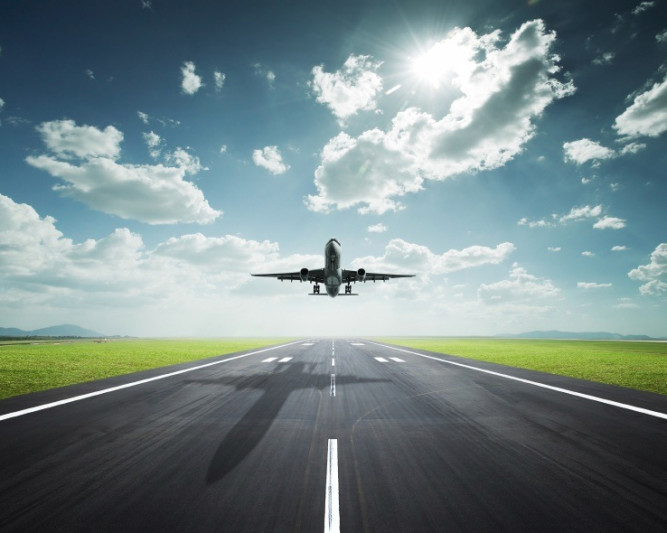 A Former Flight Attendant Shares Insider Airline Travel Tips and Reviews The Latest TSA Security Regulations
Dealing with long lines, heavy luggage, and a stack of paperwork while navigating through the complex maze of a crowded airport doesn't seem like the ideal way to start a trip. But for many of us, flying is unavoidable.
As a former flight attendant for a Delta regional airline, I've seen it all. Airlines suffer from flight delays, ticketing errors, baggage mishaps, security snags, oversold flights, and irate passengers—the list goes on.
A smart traveler can save time and frustration with a little preparation. These easy travel tips will show you how to save an hour or two at the airport by bypassing the check-in counter and sailing through the TSA security screening. You'll be sipping a latte beside your gate in no time.


Prepare In Advance To Avoid The Check-In Counter
The best way to ease your time at the airport is to come prepared. With a boarding pass in hand and your luggage checked curbside, you can head straight to the security checkpoint when you arrive.
Check-In Before You Arrive
Take advantage of the online check-in service offered by most major airlines. You can lock-in your seat assignment, pay checked-luggage fees, and print your boarding pass all from home.
No computer access? You can check-in from the automated self-serve kiosks available at many airports. Just swipe your passport, ID, or a credit card; the computer will scan for your name and pull up your itinerary.
Unload Checked Baggage At The Door or Pack The Right Carryon
If you're checking luggage, you can drop your bag curbside with a skycap right in front of the airport entry doors. Be aware that most airlines now charge a $2-$3 fee for this service, and tipping the baggage handler is standard practice.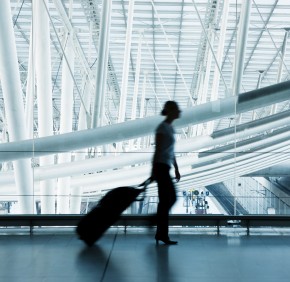 With the new trend of most airlines charging upwards of $20 for every checked bag, more passengers are squeezing everything into carry-ons. Be sure your carry-on meets the size and weight requirements set by your airline to avoid any surprises at the airport.
Even if you follow these guidelines, you may be informed at the gate that your roller bag is too large for the overhead compartment. This happens frequently on full flights. Your bag will be checked planeside and returned to you on the jetway immediately after landing. Be mindful of this and consider packing your valuables and essential carry-on items in a separate shoulder bag to keep with you.
Get Through TSA Security Screenings Fast
With your boarding pass and government-issued identification in hand, you can zip through security if you dress and pack properly.
Pack Right to Avoid Delays
The TSA asks travelers to bring well-packed, organized carry-on bags to expedite the X-ray process. A bag full of messy, disheveled items will take more time to examine and may be pulled aside for closer inspection.
Carry-on electronic gadgets are allowed, but remember all laptops must be pulled out from luggage and scanned separately. Save time by having your laptop handy as you approach the X-ray belt.
The TSA is standing by the 3-1-1 rule for bringing liquids on-board the plane. This means you can carry on common toiletries in individual three-ounce bottles which must be packed in a single one-quart clear plastic zip-shut bag. If your trip is longer than a few days, you may want to include full-size toiletries in your checked luggage.
Dress Simply to Minimize False Alarms
As of 2011, the TSA still requires passengers to remove their shoes for X-ray screening. Choose easy slip-on shoes for your day of travel to save time.
To prevent a false alarm when passing through a metal detector, avoid wearing or carrying metal objects such as jewelry, wristwatches, car keys, or belts with metal buckles. All of these items may be tucked away into your carry-on in advance to expedite the process.
Take Advantage of What The Airport Has to Offer
Once you've passed through security and located your gate with an hour or two to spare, allow yourself time to take advantage of what the airport has to offer.
Larger, modern airports boast incredible architecture and display works of art throughout their terminals. Many offer a variety of shops filled with gifts unique to the locale. Restaurants, from national chains to locally-owned eateries, will help you fill up fast. The advent of quick comfort services, such as mini-massage stations and oxygen bars, are gaining momentum. Business travelers may find convenient workstations and free or low-fee internet access. International airports are rich with cultural diversity, often bustling with travelers from all over the globe. Take it all in, have fun, and try to appreciate the buzz of energy that radiates from the epicenter of human travel.