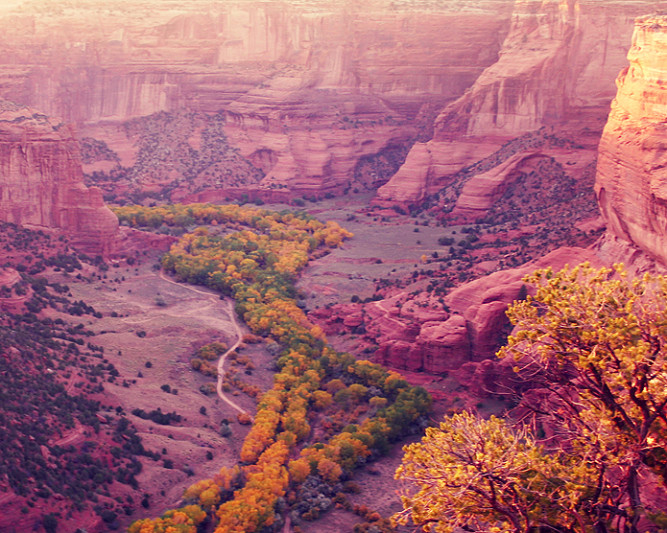 Visit Ancient Sites With a Navajo Guide; This Lesser-Known National Park Rivals the Grand Canyon in Beauty, History, and Culture.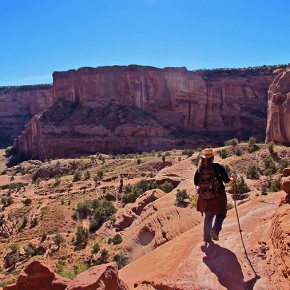 Located in the remote northeastern edge of Arizona, Canyon de Chelly National Monument is worthy of a weekend visit.  The park features a series of majestic canyon overlooks highlighting ancient Native American ruins.   Of the seven hundred standing ruins, thirteen have been preserved.  Visitors can explore the canyon floor for close-up views with a genuine Navajo guide or park ranger.
Getting There
The rural community of Chinle is the gateway to this national park, located 75 miles north of the I-40 off Hwy 191 in Northeast Arizona.  At nearly four hours from Flagstaff and almost six hours from Phoenix, an overnight stay is recommended.  Chinle has several reasonably priced hotels and restaurants to choose from.
What To Do
Scenic Drive
Drive to various overlooks accessible from two different paved roadways that wrap around the canyon. There are three overlooks along the North Rim Drive and seven along the South Rim Drive. Ancient Native American Pueblo ruins and cliff dwellings can be spotted from the overlooks. Allow two hours for either drive along the canyon rim.
Canyon Tour
Because the canyon continues to be home to the local Navajo community, an authorized guide is required to tour into the canyon backcountry. A local Navajo guide can be hired for a nominal fee. These guides conduct vehicle, hiking, and horseback tours regularly. Check in at the Visitor's Center for more information or to arrange a tour.
Self-Guided Hike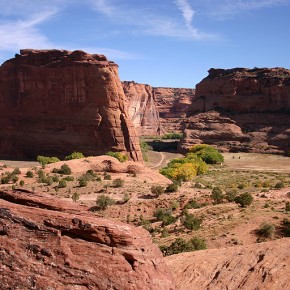 One hiking trail into the canyon is open to the public without the requirement of a guide or permit. Beginning at the White House Ruins overlook off the South Rim Drive, a well-maintained switchback trail descends 600ft from the canyon rim down onto the canyon floor. The view is spectacular and the hike is relatively easy with a gentle slope and plenty of places to rest and take in the views. At the bottom of the canyon, the White House Ruins can be seen up-close. Be sure to bring along plenty of water and a little extra cash to shop for handmade gifts from the Navajo who gather daily to sell their wares. Plan to spend two to three hours hiking down into and back out of the canyon.
Hours and Entrance Fees
Visitor Center hours:
8AM – 5PM, excluding December 25th
Entrance fees:
Free entry; donations are accepted.
Fees for canyon-floor tour guides will vary.
Map It

View Southwest USA Travel in a larger map