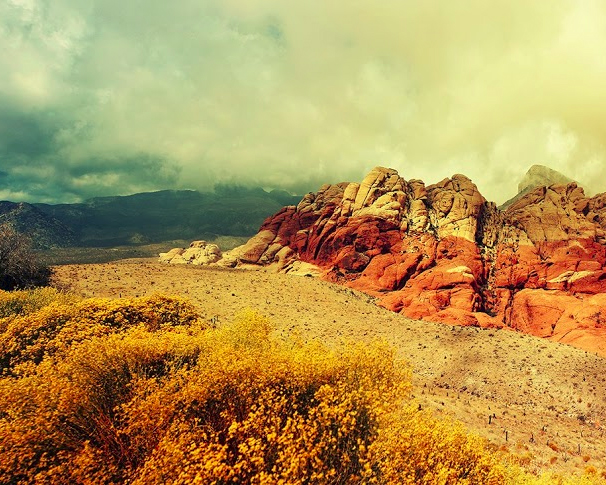 Spend the Day at a National Conservation Area Featuring Panoramic Vistas, Scenic Hiking Trails, Rare Prehistoric Artifacts, and Diverse Desert Wildlife.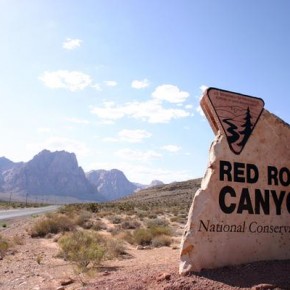 Red Rock Canyon is a fun family-friendly excursion only a short drive west of the famous Las Vegas Boulevard.  The National Conservation area is renowned for its rare geologic structures, most notably the red sandstone Calico Hills, popular for world-class bouldering and rock climbing.
Getting There
Visitors can get to the National Conservation area from the Las Vegas Strip by driving west on Charleston Blvd for approximately thirty minutes.  The entrance to Red Rock Conservation Area is on the west side of the road, marked by a large sandstone park sign.
What To Do
A stop at the Visitor's Center is highly recommended.  Patrons can browse educational exhibits, take in a panoramic view of the canyon, and shop at the gift store.  Restrooms and refreshments are available.
To tour Red Rock Canyon, take a leisurely drive on the 13-mile scenic loop that winds through the Mojave Desert terrain.
There are a number of roadside parking areas where visitors can enjoy the the views or take a hike on a marked trail.  Trail markers display the length and difficulty of each hike, and informative park signs describe local wildlife and geology.
Unusual Sightings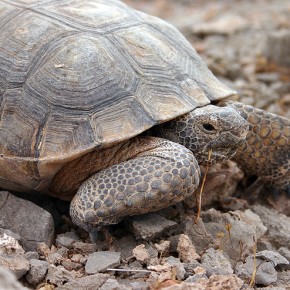 Throughout the area wildlife can be spotted including burro, bighorn sheep, and the desert tortoise.  The region is abundant with diverse desert foliage from Joshua Trees to Beavertail Cactus.  Petroglyphs from early Native Americans can be found throughout the park, which may date as far back as 3,000 BC.  The Willow Springs Picnic Area off the scenic loop has a striking display of Native American handprint pictographs.
Hours and Entrance Fees
Park hours:
November through February:  6AM – 5PM
March:  7AM – 7PM
April through September:  6AM – 8PM
October:  6AM – 7PM
Visitor Center hours:
8AM – 4:30PM
Entrance fees:
$7 per car; annual passes are available for $20.
Map It

View Southwest USA Travel in a larger map