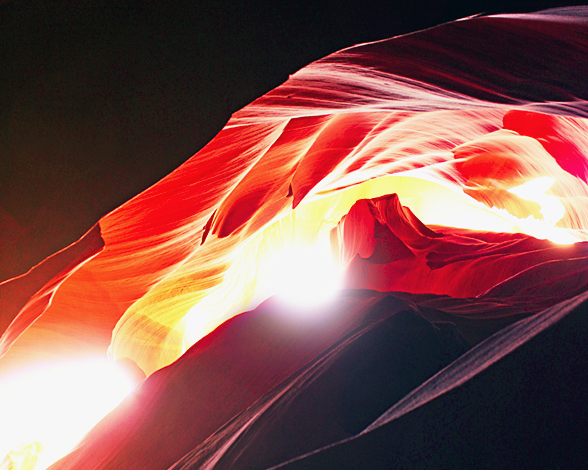 This Naturally Sculpted Navajo Slot-Canyon is an Immensely Popular Paradise for Photographers.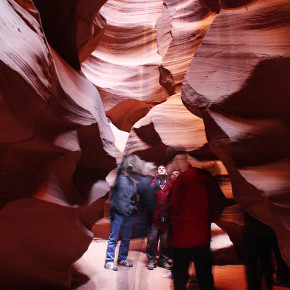 Antelope Canyon of northern Arizona is one of the premier destinations for nature lovers and photographers alike.
The smooth sandstone walls of this remarkable slot canyon are accented by striking shafts of light, rendering this one of the most photogenic sights in all of the Southwest.
Carved by years of erosion from flash-flooding, visit this canyon to witness the awe-inspiring ways in which nature impacts the landscape.
Getting There
Located on the edge of the Navajo Nation in northern Arizona near the Utah border, Antelope Canyon is convenient to many more great destinations in the Southwest. If you plan your trip accordingly, you can see some beautiful sights before or after your Antelope Canyon tour.
Where is Antelope Canyon?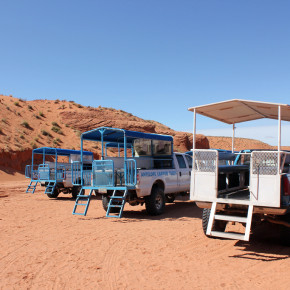 Just six miles east of the small town of Page, Arizona, Antelope Canyon is only accessible by hiring a Navajo guide. You can sign up for a canyon tour right in town from several local providers, or you can cruise southeast on Highway 98 and find a tour company closer to the canyon. The road will be marked with signs advertising tours. Stop by and inquire. Once you pay for a tour, you'll join a group of visitors in a 4X4 driven by your tour guide. Travel to the mouth of the canyon is a couple miles away on rough, unpaved desert road.
What's Nearby Antelope Canyon?
Some relatively close sights are worth checking out on your way into or out of Antelope:
Zion National Park – 115 mi. NW
Monument Valley – 125 mi. E
Grand Canyon, Arizona (South Rim) – 135 mi. SW
Bryce Canyon National Park – 150 mi. N
Canyon de Chelly, Utah – 165 mi. SE


What To Do in Antelope Canyon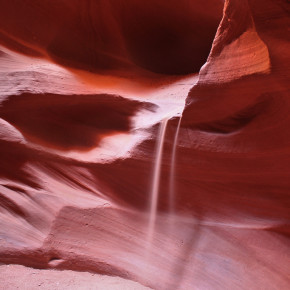 Activities in Antelope Canyon are limited to a walk-through tour strictly led by authorized guides. Preservation is important to the Navajo people.  There are no solo excursions; even touching the canyon walls is discouraged in order to protect the delicate sandstone.
For obvious reasons, this is a popular destination for both amateur and pro photographers. Chances are, when you visit Antelope Canyon it will be crowded with photographers. Bring your camera and enjoy a once-in-a-lifetime photo op.
Tour Upper Antelope Canyon
Upper Antelope Canyon is most popular among tourists as the entrance and the length of the tour is all at ground level. No climbing is required, and the footing is very even. You'll arrive at the entrance with your guide who will walk you through the slot canyon with your group and share the history and nature of the canyon. Mid-day tours are most popular to catch the noontime beams of light coming into the canyon from above.
Tour Lower Antelope Canyon
A couple miles further out, Lower Antelope Canyon is a more difficult, longer, narrower excursion with uneven footing. It requires some climbing on fixed stairways.
Because the depth of Lower Antelope is shallower, extra light enters this canyon making it ideal (and a favorite) among professional photographers.
It is also a slightly more expensive tour because of the intensity and duration of the hike.
Where To Stay in Antelope Canyon
Because this is a restricted sight far from the main road and requiring a guide for access, there is nowhere to stay immediately in Antelope Canyon. You will be escorted to and from the canyon by a Navajo guide. But nearby is the town of Page, Arizona, offering plenty of lodging options.
Antelope Canyon Hotels
Six miles west of Antelope Canyon in the neighboring town of Page, Arizona, are plenty of hotels at all price points, including national chains. You'll have no trouble finding a place to stay for the night. You can also head 75 miles northwest on Highway 89 and for additional lodging options in Kanab, Utah. Kanab is a beautiful small town with easy access to both Zion National Park and Bryce Canyon National park.
Antelope Canyon Camping
There is no camping in the canyon. Head northwest towards nearby Lake Powell for plenty of camping options on the lake's shoreline.  There will be a nominal fee to enter Glen Canyon National Recreation Area, along with camping fees averaging $6-$15.
Hours & Entrance Fees
Tour Hours
Hours and vary by tour company and time of year. It is advised to arrive early and schedule a tour in the late morning or midday, to take advantage of the best light.
Entry Fees
Total costs for a tour run between $35 and $85 per person. The fee depends on whether you tour the upper or lower canyons, and the time of year.
Map to Antelope Canyon
Use the map below for directions to Antelope Canyon. View the larger map to explore more popular Southwest USA destinations.


View Southwest USA Travel in a larger map
Photo Credits © Fox Stock / Hillary Fox / Matthias Kabel